Mine Engineers, Inc.

3901 South Industrial Road
Cheyenne, Wyoming 82007 U.S.A.
Phone: (307) 638-8833 • FAX: (307) 638-0578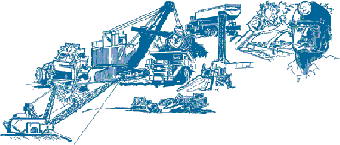 Our Mission
Mine Engineers, Inc., is a professional engineering firm dedicated to providing high quality engineering services to the mining industry. The company was organized in 1992 by Eldon D. Strid, a licensed professional mining engineer with over 30 years of experience in mine engineering and operations.

Our mission is to provide quality products tailored to each client's unique situation. We strive to complete project tasks so well that our clients will return to Mine Engineers, Inc. for all their mining engineering needs.

Three ingredients are essential to any successful project:
People

Integrity

Service

People
Mine Engineers, Inc. people bring the experience necessary to achieve client objectives. Our engineers and managers all have mine operations experience. Mine Engineers, Inc. has a nucleus of mining engineers experienced in operations, design and project management. Licensed professional engineers and trained staff complete each project in a careful, precise and accurate manner. Through alliances, partnering and subcontractors, specific expertise can be brought to the consulting team which augments and enhances the final product.

Putting together a team with the right combination of discipline and experience allows Mine Engineers, Inc. to offer you the expertise required for complex projects.

Integrity
Character, honesty, trust, principle, professionalism, and respectability all describe integrity. Mine Engineers, Inc. personnel strive to be people of integrity and reflect this characteristic in their work.

Integrity is the keystone of our relationship with clients.

Service
Service means respecting the client's supervision and goals; meeting schedules and budget constraints; and providing deliverables which meet and exceed the client's expectations. Our success follows the success of each project. A client's success is important to Mine Engineers, Inc. and is something we all can be proud of.

Location
The company is based in Cheyenne, Wyoming USA. Our office location is significant because of the proximity to Wyoming's bentonite clay, coal, and trona mining operations. Mine Engineers, Inc.'s close proximity to Denver International Airport is also important for easy access to domestic and international projects.

Perspective
Mine Engineers, Inc. people have a world wide perspective which we bring to each project backed by experience in many types of mines and environments. Because of our experience in mining operations, we bring cost effective solutions, efficient systems and low risk methods to every project. There is no other answer.

Links
The following links were selected to assist you in your website browsing experience:


Wyoming Mining Association Member
This site best viewed with Microsoft Internet Explorer.
To download Internet Explorer click here or on image below.
Best experienced with

Click here to start.


HOME

MINING ENGINEERING

PRB MINABLE COAL

SATELLITE IMAGERY


CONTACT INFORMATION

COMPUTER SOFTWARE/HARDWARE CAPABILITIES

OUR CLIENTS


WY MINING/COAL NEWS

WHAT'S NEW

WEBSITE MAP

WEBSITE SEARCH

Comodo SSL